Local As
New 'Local As' Granola Range – Supporting New Zealand Producers
As a proudly owned and operated New Zealand business, pure delish are all too aware of challenges kiwi businesses have been facing in light of the Covid-19 pandemic. We wanted to work out what we could do to help and after much thought, the concept of 'pure delish Local As' was born.  The first ever range of granolas with 100% NZ ingredients and 10% of profits being donated to the Forest Lifeforce Restoration Trust. 
We're pretty proud of this range as we unintentionally set ourselves quite a tricky challenge making a New Zealand granola. If you think about it, many of the ingredients that appear in cereals aren't classically kiwi crops – but after searching from the top of the north to the bottom of the south, we got there in the end. Some of the ingredients include quinoa, macadamias and buckwheat – all grown right here in Aotearoa – who knew? And we've even produced a flavour with horopito, it doesn't get more New Zealand than that!
Since the start of pure delish back in 1997, all our products have always been hand-crafted and our Local As granola's are no different. The new flavours are:
Macadamia & Manuka Honey
Blackberry, Blueberry & Boysenberry
Nectarine, Blueberry & Horopito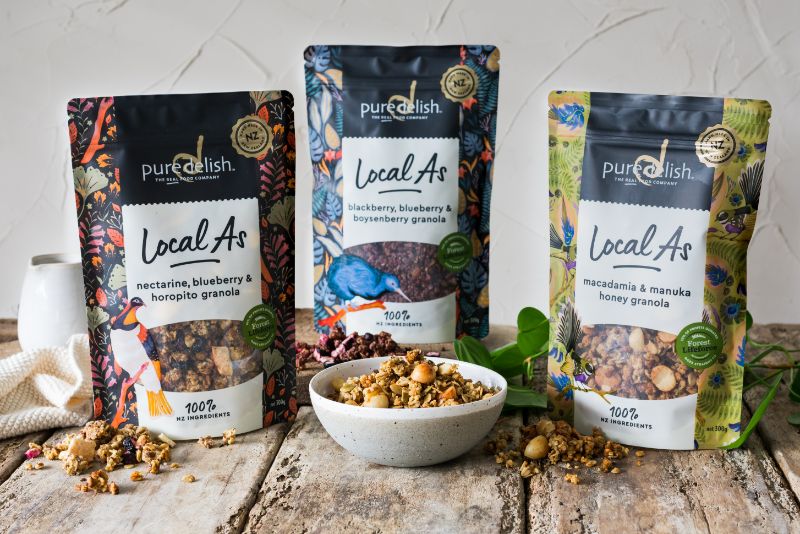 Giving Back
As part of our journey into supporting local and giving back, we looked at what else we could do. We are really excited to share that we are donating 10% of our profits to the Forest Lifeforce Restoration Trust. This will help to fund their highly successful kiwi breeding programme, forest regeneration and protection of threatened NZ native species initiatives. It's great to be part of something bigger than ourselves and ensure that generations to come know what a kiwi is!
NZ Art on the packaging
We wanted our pack to be a canvas to showcase a rising NZ artist and are very proud to have the artwork of Catherine Marion, based in Taranaki, on our packaging. Catherine, like us, is creatively inspired by the natural beauty of New Zealand. We also have partnered with Soft Plastics Recycling – a scheme where our packs can be recycled locally into new products. 
'Local As' marks the beginning of the pure delish's journey to be more sustainable so our people, planet and local communities can thrive.  After all that's what being Local As is all about eh!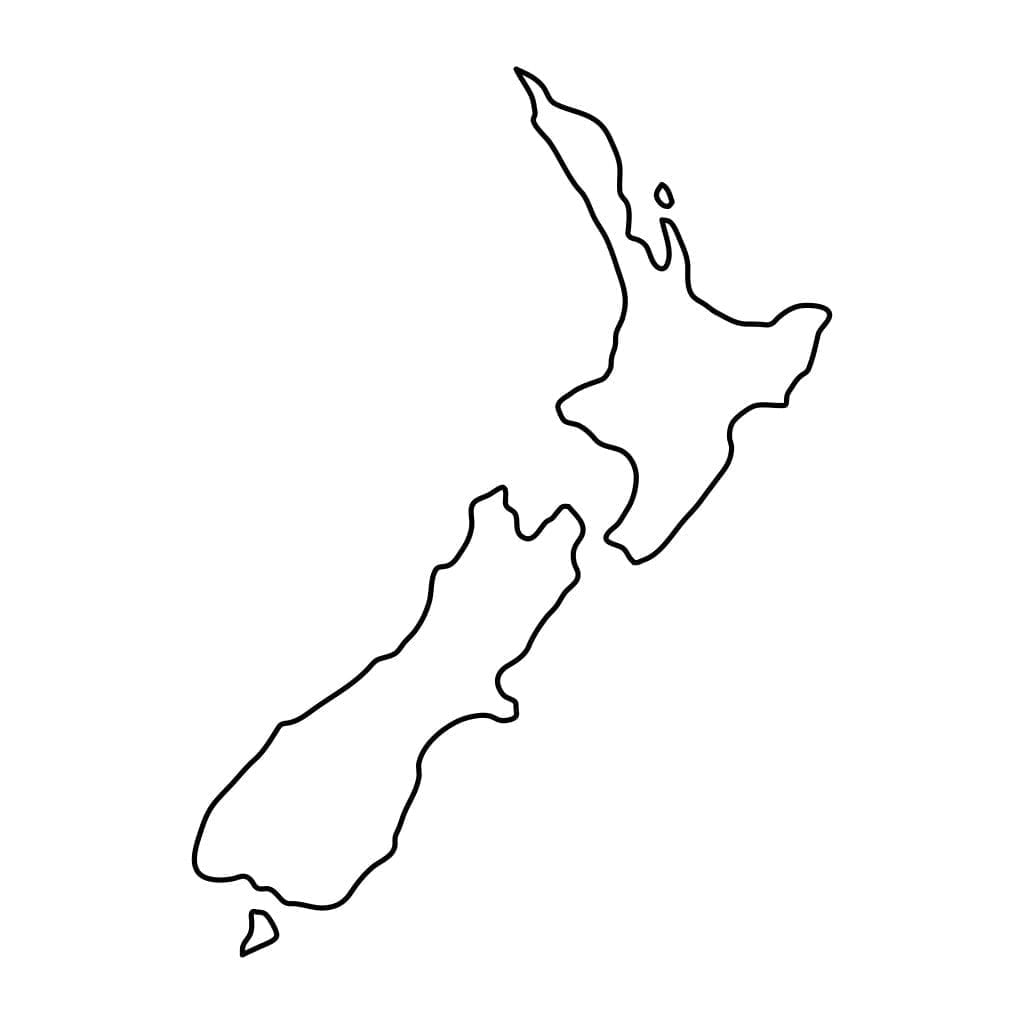 click on the ingredient names to read their stories…
Our Manuka Honey Story
We source our manuka honey for our Macadamia & Manuka Honey Granola from the Central North Island. It's such a distinctly New Zealand flavour, perfect for our Local As Range. Andrew George is one of the beekeepers who is responsible for the creation of this liquid gold – he has been making honey for nine years after initially thinking it would be a six-month interim job between university degrees. "I really was planning to go back to university after six months doing this, but I just loved the nature of the job – being outside, the variety and how it's different every season – so I never left!" Andrew says one of the best parts of the process is transporting the hives when it's time for honey collection. "Manuka only grows prolifically in the most remote parts of New Zealand, so it's pretty special to go to these areas that only such a small percentage of people in this country have ever seen. When the Manuka is flowering we take the hives to really untouched areas in the Coromandel, Central Plateau, Taumarunui and Mangataniwha – and once that brief window is over, we bring them back to Cambridge to winter down." At pure delish we love using a product which almost seems to contain the very essence of Aotearoa – like a taste of wild New Zealand in a jar.
Our Horipito Story
We thought a lot about how to make our Nectarine, Blueberry & Horopito and Blackberry, Blueberry & Boysenberry Local As flavours truly, uniquely, kiwi – and couldn't think of anything better than the addition of a plant used by Māori for centuries. But how do you get the unique flavour of horopito into a cereal? You go to one of New Zealand's leading experts in distilling and flavour concentrates. Prenzel has been a pioneer in traditional European flavoured spirits in New Zealand since it started trading in 1992 (originally as the Alsace New Zealand Distilling Company after its French founder) but branched into culinary flavour concentrates and infused oils in the late nineties. "We craft our horopito extract using traditional methods – it's time consuming, but it is the best way to extract the natural flavours," says Ian Runnalls, General Manager. "After much experimentation, we finally perfected it in 2005 but the biggest challenge in the process was finding a source of Horopito that we could regularly harvest since our method of flavour extraction requires fresh leaves. To solve this we actually planted our own Horopito plants!" That's the kind of commitment we really admire here at pure delish, and love the extra, unique magic Prenzel's special extract adds to our Local As range.
Our Buckwheat Story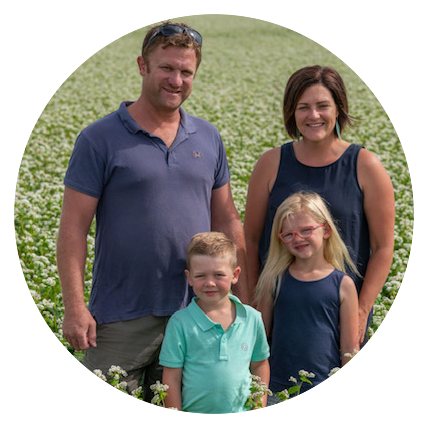 You'll find delicious Pure NZ Buckwheat in our Macadamia & Manuka Honey and Nectarine & Blueberry Local As flavours – a nutritious, tasty addition that comes from the best of fertile South Canterbury soils. While not a traditional crop for New Zealand, Nick and Kath Walters realised it could definitely be cultivated on their property just south of Timaru and managed to successfully grow their first commercial crop in 2019. Duncan and Amy Scott are also part of the Pure NZ buckwheat story – farmers and apiarists they've added an extra level of interest by creating a uniquely-flavoured buckwheat honey to the product stable. "Farming is an ever-changing industry," says Nick, the fourth generation to farm his family's land since his grandfather first purchased it in the 1940s. "All of us involved are so aware of the need to diversify and future-proof our farm for our kids and other generations to come, so buckwheat really is the perfect crop. It is sustainable and environmentally friendly, and we love it because you use the whole plant so there is no waste. Anything that's not for eating can be recycled back into your farm system." And here at Pure Delish we love it too – it's spray free and a great source of starch, proteins, vitamins and minerals adding a nutritionally packed punch to these two Local As flavours.
Our Quinoa Story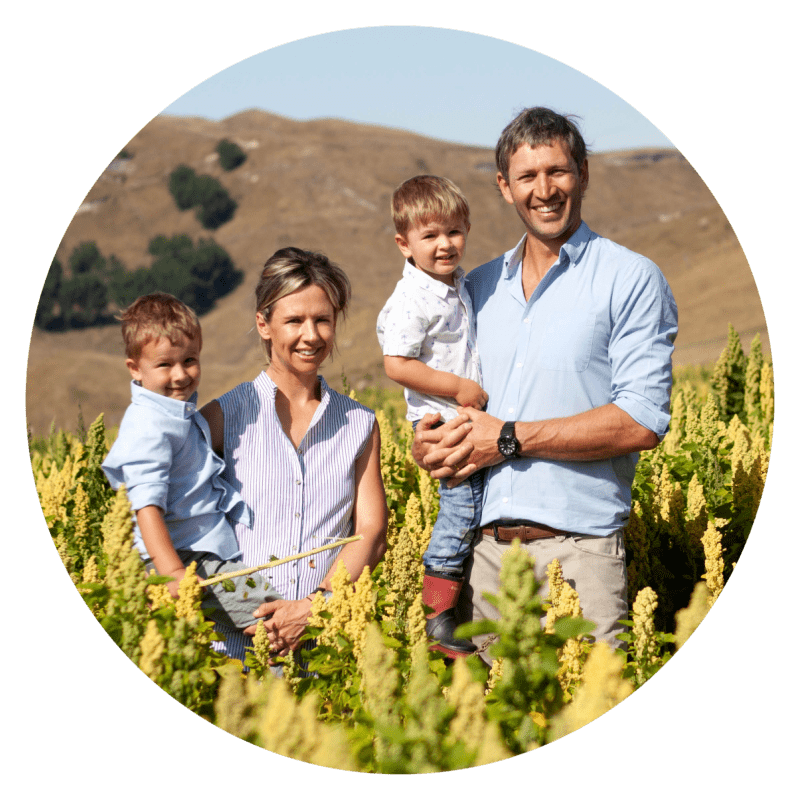 Dan Cottrell was a meat and potatoes kind of man – from a four-generation sheep and beef farming background, which makes it kind of amusing that he now finds himself the biggest grower of quinoa in New Zealand. It makes a little bit more sense when you understand that the other half of Kiwi Quinoa is his wife Jacqui, an agronomist and 'health nut' who knew all about the benefits of this superfood well before it became commonplace in New Zealand restaurants and supermarket shelves. Dan and Jacqui's quinoa is an ingredient in all three of our Local As cereal flavours – grown in Rangitikei rather than its native South America, it's a pretty great story of kiwi can-do. We love the fact that it not only tastes delicious but is a complete protein with high levels of magnesium, potassium, manganese and iron as well. "It's been a journey for sure," says Dan. "Everything that could go wrong, has, since we planted our first crop in 2016 but despite the comedy of errors, we're so proud of finally producing something that's so good for people and is grown down the road – rather than thousands of kilometres away." Jacqui says "It seemed like a crazy idea nine years ago when we saw quinoa crops in Peru and wondered whether we could grow it back home, but all the trials and tribulations have been worth it for the good taste and health it's bringing our customers now. We're so happy it's going to be part of a cereal like this – you really can eat quinoa for breakfast lunch or dinner!
Our Macadamia Story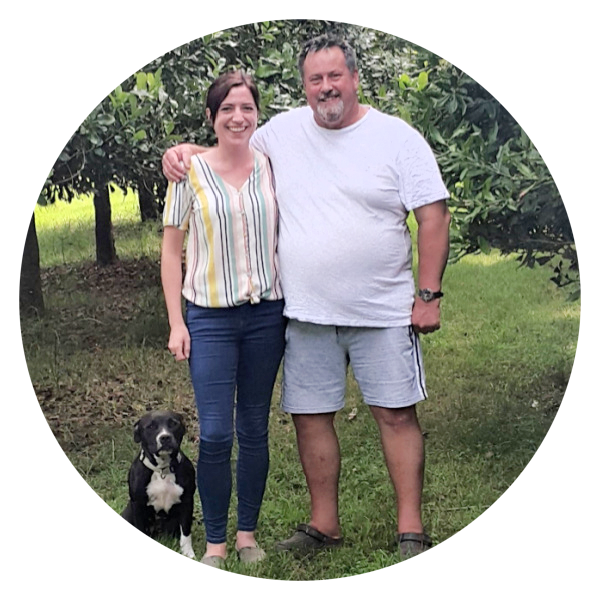 17 years ago Eric caught the macadamia bug and decided to start clearing his land to plant an orchard. He carefully selected both New Zealand and Australian varieties to enhance pollination and effectively manage the harvest season. The flat site with rich soil in sunny Waipu Northland made it well suited to grow macadamias. While the trees were developing, he met his now wife, Dee, and convinced her to join him in his nutty venture. With a background in horticulture and food quality Dee soon went nutty as well and is now passionate about macadamias also.
Over the past few years, together they have worked hard to establish Nutty For You as a producer of premium quality macadamias. In that time, they have also expanded the business to include a retail outlet and full processing facilities on site which enables them to be involved with every step of production so they can ensure quality is upheld throughout the entire process from tree to table. Given the unique creamy flavour and crunchy texture of macadamias, along with their amazing health benefits, Eric and Dee expect to continue catering to the nut lovers of New Zealand for the foreseeable future.
Our Oats Story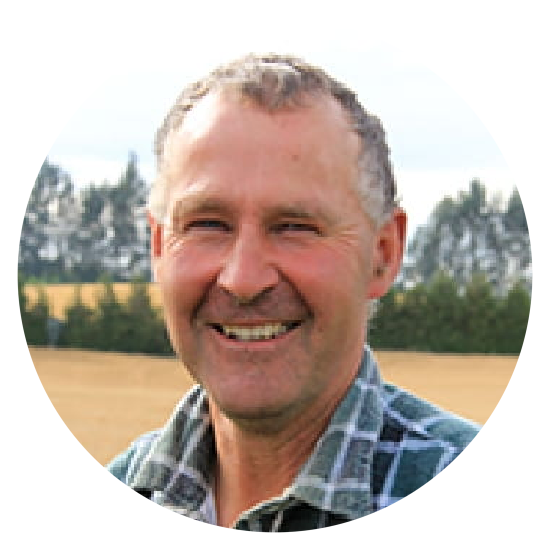 The oats in our Local As cereal come from a variety of New Zealand oat farmers all over the country. One of these is Graeme Gardyne, from Chatton in Southland. A fourth-generation farmer, oats are well and truly in his blood – his great grandfather came to New Zealand from Scotland in 1860 and purchased land near Gore some years later, where he sowed the family's first crops. "We have been growing oats since 1876 and I now have grandchildren living on the farm – which makes it six generations total," says Graeme. "We might be a bit biased, but we really do believe the best oats come from this part of the world. Because they thrive in colder climates and heavier soil, we have near perfect growing conditions. Most of our paddocks are suitable to grazing sheep and grow crops. Once we've grown a rotation of cereal crops including oats for 4-5 years in a paddock, we return it to pasture for the sheep, which thrive on the clover-rich pasture. This makes the soil incredibly fertile for when the rotation returns to growing oats and other cereal crops. It's all very complementary".
Graeme is the chairman of the Oat Industry Group which holds a field day on his farm every year for those involved in oat growing and others interested in the industry. There are few people in New Zealand who know as much about this wonderful, nutritional cereal as him.
Our Peach Puree Story
If you're wondering what makes our Nectarine & Blueberry Local As flavour so delicious, it might be the addition of the naturally sweet peach puree from Frupak. With most of the fruit in this cereal coming from the same region, it's almost like you can taste a little bit of Hawke's Bay in every spoonful. Frupak was originally a co-operative (Fruit packers) established in 1970 by group of growers so they could collectively manage their own packing and exporting, but in 1981 they came up with the brilliant idea of using their 'process grade' fruit (fruit that still tastes delicious but might have imperfections) to make an apple pie filling. "The apples were still top quality," says commercial manager Annabel Taylor "but might not have been export level so this was the perfect way to use them while providing a product for bakeries and other customers who wanted a pure cooked product, minus the peeling, cutting and stove time!" Despite starting with apples, word spread fast and soon the stonefruit folks came knocking too. "Some years peaches and nectarines would be damaged by hail and this was a great way to use them by just removing the bruised bits and cooking the rest. We now have breweries, bakeries, yoghurt producers and ice cream makers all using our purees, juices and pie fillings." says Annabel. And at pure delish we are very proud to add ourselves to that list – the best of New Zealand fruit with no need for added sugar adds a special level of zing – and joy – to this cereal flavour.
Our Nectarine Story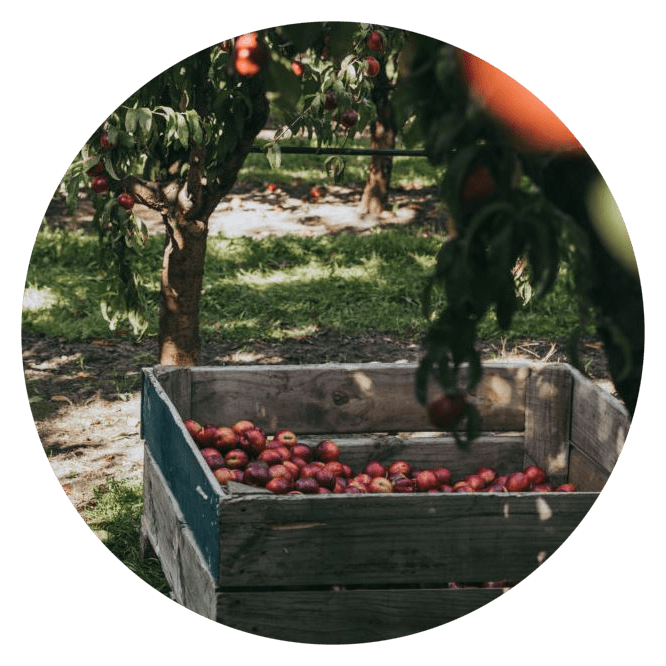 Kevin and Karen bought their first summerfruit orchard in Hawke's Bay on Nicholl Road in 1990. Over the following years, their passion for growing and harvesting produce for both the local and export markets saw them purchase additional land in Twyford and surrounding Hastings areas.
Kevin and Karen take pride in producing some of New Zealand's highest quality crops, and also enjoy selling their seasonal produce locally to Hawke's Bay through their store "The Fruit Shop" located on Pakowhai Road from November to March. Their fruit stall began in 2011 under a large oak tree on Pakowhai Road by daughter Alice requiring a summer holiday job. The huge popularity for fresh quality produce led to the current produce store being built.

Our Walnuts Story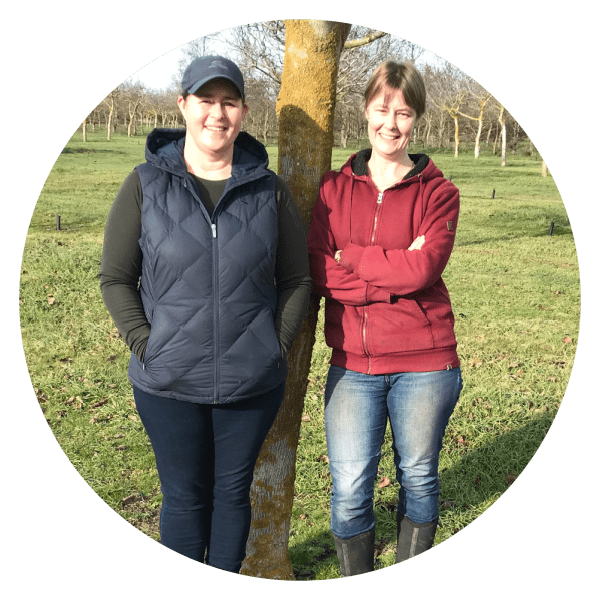 We know if you're looking for top quality walnuts, Canterbury is the place to go. With more growers in the region than anywhere else in the country they clearly know what they are doing, and the taste is proof. The walnuts in all three of our Local As flavours come from the Walnuts New Zealand Co-operative who represent many of the growers in this area. Two such growers are sisters, Maria Tiede and Anna Brenmuhl. "When our parents retired from their dairy farm, they started growing walnuts and became pretty good at it. We always wanted our own orchard, like them, but were too young and broke so over the years realised the best way to do it was to join forces. Now my husband Damien and I own half and my big sister Anna owns the other," says Maria. "We share the work, but she's the one with the horticulture degree, so she tells me what to do! We have 1300 trees and they are so lovely. We give them everything they need, and keep the orchard clean and clear for harvesting, so when they fall, the nuts are full of good kernel. We make sure we pick them up quickly so they don't deteriorate, and they are washed and dried in short order to maintain that goodness – that's what makes them taste so good." And we'd have to agree – we feel very proud having Canterbury walnuts in our new Local As cereal flavours.
Our Blueberries Story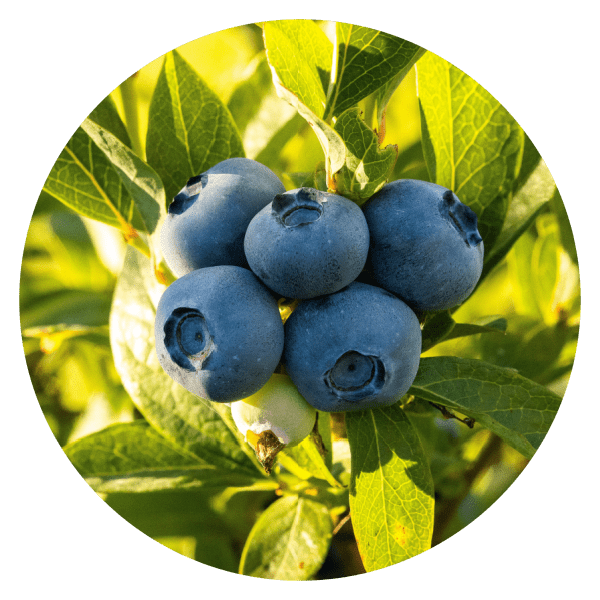 The tart, sweet, freeze-dried blueberries in our Nectarine, Blueberry & Horopito and Blackberry, Blueberry & Boysenberry Local As flavours come from a great company called Fresh As. They are the clever people who make them crunchy and zingy but of course they don't grow them themselves, buying them instead from the talented growers at Gourmet Blueberries. "Gourmet Blueberries have been growing here in Hawke's Bay for 15 years," says Technical Manager-Crop Science, Daniel Hutchins, "The company searched the whole country till they finally found the perfect spot – right here." The area's light soils and hot dry weather make for ideal conditions to produce plump juicy berries and the company, founded in the early eighties, is constantly doing research and development to make them more delicious and nutritious year-on-year – as well as improving the sustainability of the way they are grown. "Blueberries are high in antioxidants that improve blood flow and recovery after exercise, they help maintain brain function as well as delay other effects of aging," says Daniel "Science firmly establishes them as a true superfood." And we'd have to agree – we love the idea of having something that delicious, that good for you, and grown in New Zealand as part of our Local As cereals.
Catherine (Kate) Marion – The Artist…
You'll know if you've seen Catherine Marion's Folklore & Flora work. It's hard not to be drawn in by her vibrant designs featuring the flowers, foliage and animals she finds in her everyday life in Aotearoa – her new home. She was an obvious choice for the look of the new Local As range, a celebration of everything that is great about New Zealand. We knew her beautiful prints featuring kereru, kiwi and fantail would be perfect to help us highlight not only the very local nature of the product, but also its connection with the Forest Lifeforce Trust and the amazing work they do. Catherine is originally from Montreal in Canada and has always wanted to be a full-time artist but initially worked for many years as a graphic designer. It was moving to New Zealand four years ago that finally gave her the push to follow her dreams. "The flowers, plants and birds were so beautiful here and it was hard to stop drawing them. I met so many people who had that wonderful kiwi spirit of just forging ahead and doing what they want instead of overthinking it, and I think I took some of it onboard and started drawing artworks that I believed would make products stand out on the shelves. I'm so happy to be part of making this great product look as beautiful as it tastes."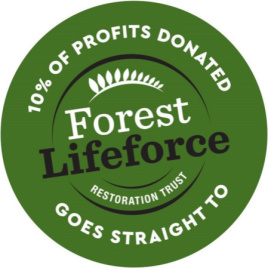 About the Forest Lifeforce Restoration Trust
​The Forest Lifeforce Restoration Trust was established in 2006 to provide direction and funding for the restoration of threatened species of fauna and flora, and to restore the ngahere mauri (forest lifeforce) in in Maungataniwha and Pohokura native forests within the Central North Island.
Their activities have increased significantly since 2006 and the trust now runs six native species regeneration and restoration projects, involving both flora and fauna, on three properties in the central North Island, one property in the South Island's Fiordland National Park, and one property on Stewart Island.
The Maungataniwha Kiwi Project has carved out a name for itself as one of the most prolific and successful kiwi conservation initiatives in New Zealand. It is part of Operation Nest Egg and has now seen more than 450 kiwi chicks hatched and released into the wild. Kiwi eggs are taken from the Maungataniwha property and incubated. The resulting chicks are then reared in safety by several partner organisations before being released back into the wild.
The Trust is also involved in establishing secure breeding areas for the Whio (Blue Duck) populations on both Maungataniwha and Pohokura forestry properties.
The extensive predator control operation and the establishment of two sanctuary areas are vital to both the Maungataniwha Kiwi Project and the Whio conservation work. Predator populations have been reduced significantly as a result of this work, creating a safer environment for a variety of native bird species.
One of the most colourful projects the trust is working on, is without doubt the Kakabeak propagation, nursery and replanting programme. Kakabeak, or Clianthus Maximus, is a shrub with a glorious flower shaped like a parrot's beak and, sadly, it is now extremely rare in the wild. Before efforts to re-establish this plant started yielding results there were only 109 plants known to be growing in the wild across the whole of New Zealand. Three of these were located on the Waiau Bluffs, within adjacent Te Urewera.
Finally, the work converting over 4,000 hectares of former pine forest back into native forest is believed to be the largest project of its kind in New Zealand. A major challenge has been the removal of regenerating pine that emerges and crowds out the slower growing native forest species.
Soft Plastics Recycling Scheme
Recycling soft plastic is something you can do.
The Soft Plastic Recycling Scheme website tells you all about plastic bag and plastic wrap recycling.
What do you need to do? Collect all the soft plastic packaging which you use at home, make sure the bags are clean, empty and dry and drop them into the Soft Plastics Recycling bins at supermarkets and other stores.
The Soft Plastic Recycling bins are available for use at a number of Countdown Supermarkets, The Warehouse, New World and Pak'nSave Supermarkets along with some other locations. More regions will be added during 2021.
Look out for the green and white soft plastic recycling bins in stores.
The soft plastics that are dropped off are made into a range of plastic products which are on sale in New Zealand. The Soft Plastics Recycling Scheme currently covers approximately 70% of New Zealand. To see if the scheme is available in your area, please go to https://www.recycling.kiwi.nz/store-locator.
We've been extremely encouraged by Kiwis' commitment to recycling their soft plastics.
Related news articles
UPDATE ON THE FOREST LIFEFORCE RESTORATION TRUST… Dec 2021
Pure delish are extremely proud to be donating 10% of the profits from their new range of Local As granolas, to the Forest Lifeforce Restoration Trust. Funds donated assist the Trust in some of their fantastic conservation projects helping NZ's endangered and threatened species. One of their key projects, Project Nest Egg, is one of the most successful kiwi breeding programmes in New Zealand.
We took some time to talk to the founder of the Trust, Simon Hall, about what work the trust has been doing in the last couple of months and how the start of the new kiwi breeding season is looking.
"The Operation Nest Egg breeding season is going very well and we are just about at the end of the first clutch with 54 fertile eggs collected so far. The second clutch begins early in 2022 so we will have to wait to see how that goes, but we could end up producing about 70 chicks this season, which is a fantastic result! For comparison last year we released 53 chicks in total."
"We put this success down to having caught and transmitterised more adults in the program in the last couple of years. Plus, there has been no drought conditions, which in the past has slowed breeding down."
While the new kiwi breeding season is looking promising, on the flipside, the work the trust does can have it challenges. Simon went onto to say "In our two sanctuaries (Maungataniwha and Pohokura Forests located in the Central North Island) our predator control for rats has not been as successful as we had hoped. We are finding that the rats are becoming shy towards our various poisons and to the bait stations." The Trust continues to work through alternate options for controlling the pest populations to give Kiwi, and the other endangered species they protect, their best chance to survive and flourish.
pure delish, enabled by everyone who has purchased a pack of Local As granola, are extremely proud to support the work of the Forest Lifeforce Restoration Trust, helping to make a real difference by protecting something that is so valuable to us as Kiwi's and for our future generations.
For more information on the Forest Lifeforce Restoration Trust – please visit www.forestlifeforce.org.nz.
Simon Hall, Founder/Trustee
Forest Lifeforce Restoration Trust
5 Aug 2021: Hawke's Bay Today – Hawke's Bay conservation programme's new Napier kiwi creche helps boost stocks
A conservation programme for kiwi is taking off in Hawke's Bay, thanks in part to the opening of a creche in Napier dedicated to looking after chicks.
The Forest Lifeforce Restoration Trust has returned a record 53 juvenile kiwi to Hawke's Bay hinterland following its 2020/2021 egg-lifting season, up nine on its previous best.
Tai, a male juvenile kiwi, was the last of the Forest Lifeforce Restoration Trust's 53 kiwi from the 2020/2021 egg collection season to be returned to the forests of the Trust's North Island properties.
He was handed over by Bev Wilkinson, husbandry manager at Kiwis for kiwi's Napier Kiwi Creche, with some help from five-year old Mea Strachan.
The Napier Kiwi Creche was launched in October 2020, and the first birds arrived in mid to late October.