peach and pecan, ginger & coconut nograin-ola parfaits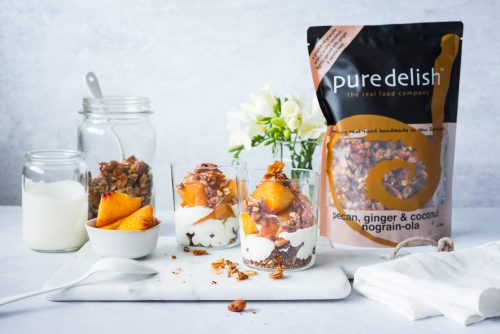 peach and pecan, ginger & coconut nograin-ola parfaits
Serves 4 
Ingredients
700g peaches, roughly 4
40g butter
4 tablespoons caster sugar
1 teaspoon vanilla bean paste
300g pecan, ginger & coconut nograin-ola
3/4 cup Greek yoghurt
Method
Remove stone from peaches and cut each into 8 segments.
Place the butter, caster sugar, vanilla bean paste and peach segments in a non-stick sauté pan over a low heat. Fry for 15 – 20 minutes or until fruit has softened and a sticky caramel glaze has formed on the outside. Turn regularly to avoid burnt spots. If glaze begins to catch, add a tablespoon of boiling water to loosen. Remove from heat and let cool slightly.
Serve peaches in glasses layered with pecan, ginger & coconut nograin-ola and Greek yoghurt.