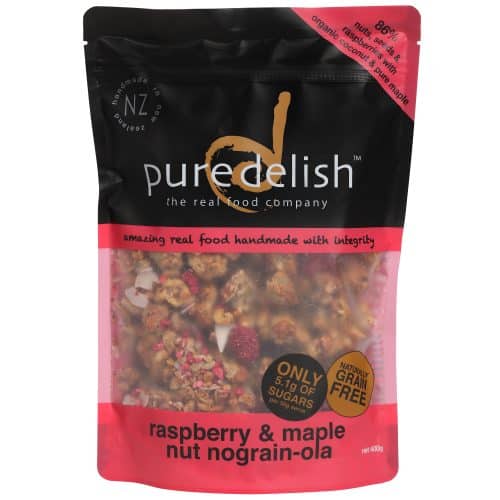 raspberry & maple nut nograin-ola is a grain free powerful blend of 84% nuts & seeds. Toasted until golden and delicious with pure Canadian maple, NZ honey & real vanilla extract, we then add a generous sprinkle of raspberries for an extra burst of flavour! 
good to know…
naturally grain, dairy & egg free

only 5.1g of sugars per 50g serve

healthy eating (4 star)

good source of fibre

no added salt

source of essential minerals

source of protein
"As a type 1 diabetic, I have spent 25 years seeking out food I could eat without experiencing an escalated blood sugar or delayed hypoglycaemia resulting from "chasing" the carbs with insulin. This product in stunning. I can not get sustained energy without any imbalance in blood sugar levels. I didn't think it was possible" Terry
serving suggestions…
Sprinkle on top of thick creamy Greek yoghurt or ice cream

Add fresh berries and a splash of cream or milk

Eat straight from the pack!