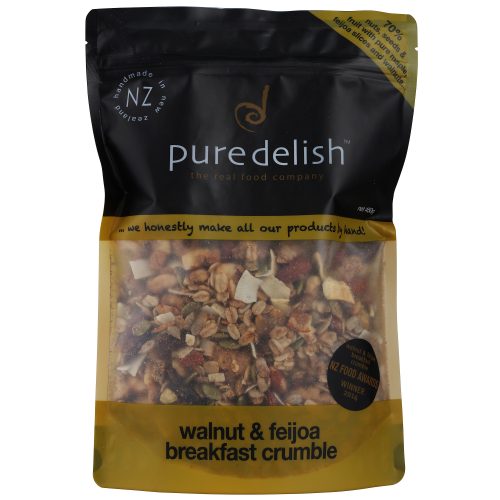 walnut & feijoa breakfast crumble is an amazing blend of nuts, seeds, rolled oats & NZ feijoa pieces – made from only the best ingredients, this delicious cereal will leave you with a taste of nostalgia for the fruit crumbles you grew up with!
good to know…
70% nuts, seeds & fruit

no wheat, dairy or egg used in this recipe

high in fibre

low in salt/sodium

source of protein & natural minerals

high in magnesium

"Your walnut & feijoa breakfast crumble is simply amazing. Just the right mix of ingredients combined with an incredible flavour. It's hard to stop after one serve – in fact I didn't" – Shaun
serving suggestions…
Add a splash of cream or milk and sliced fresh fruit

serve with a generous dollop of thick creamy greek yoghurt

for an easy dessert – our canned or stewed fruit into an ovenproof dish, mix walnut & feijoa breakfast crumble with some melted butter, spread over top of the fruit, bake for 15-20 mins. Serve with ice cream!