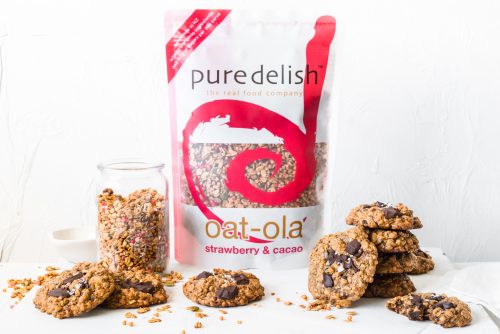 strawberry & cacao oat-ola cookies
Ingredients
75g butter
1/3 cup brown sugar
1 tablespoon golden syrup
1 teaspoon vanilla essence
2 cups strawberry and cacao oat-ola
1/2 cup plain flour
1/4 cup desiccated coconut
1/2 teaspoon salt
1/2 teaspoon baking soda
1 medium-sized egg
150g dark chocolate, chopped
1 teaspoon sea salt 
Method
Heat the oven to 170ºC and line 2 trays with baking paper.
In a saucepan, combine butter, brown sugar and golden syrup. Melt over a medium heat until sugar has dissolved. Stir in the vanilla essence then set aside.
In a large bowl, combine oat-ola, flour, coconut and salt (1/2 teaspoon salt).
Add the baking soda to the butter mixture and mix until well incorporated and foaming. Add to dry ingredients along with egg and mix to combine. Gently stir through 100 grams of the dark chocolate.
Spoon the cookie batter onto the lined baking trays, allow a 2 – 3cm gap between each cookie. Press a few chunks of remaining dark chocolate into the tops of each cookie. Bake for 10-12 minutes or until cooked through. Leave cookies to cool and harden slightly before transferring to a cooling rack. Sprinkle a pinch of sea salt onto each cookie.