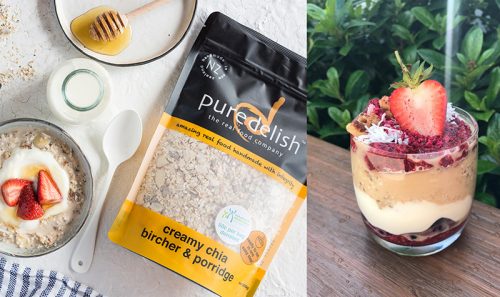 Thanks to our friends at The Smoothie Bowl, we have this super easy and delicious bircher recipe made using our new Creamy Chia Bircher & Porridge!
For 1 serving you will need:
½ cup pure delish Creamy Chia Bircher & Porridge
¼ grated apple (skin on)
Raspberry Chia Jam (see recipe below)
Coconut or Greek yoghurt
Coconut Water
Nuts & Seeds (whatever you have)
Handful of Berries (blueberries or strawberries)
Shredded Coconut
Freeze-dried Raspberry (optional)
Raspberry Chia Jam
2 cups frozen raspberry
2 TBSP water
1 TBSP honey
3 TBSP chia seeds
(Put all in a pot and boil over medium heat, stirring frequently until mixture thickens. Store in an air tight container in the fridge and will keep for around 2 weeks.)
Method:
Put Creamy Chia Bircher & Porridge and the grated apple in a bowl and cover with coconut water and a lid (could use gladwrap) and place in the fridge for 15mins. Pull out and stir.
In a glass cup/jar begin layering – You can do this in any order and use many alternatives. We started with a dollop of the raspberry chia jam, followed by fresh blueberries, then a dollop of coconut or greek yoghurt, then spoon in bircher mix, another dollop of raspberry Chia Jam, topped with a small amount of nuts & seeds, shredded coconut, fresh Strawberry and crumbled freeze dried raspberry (optional)…. super easy and totally deeelicious!!!
.