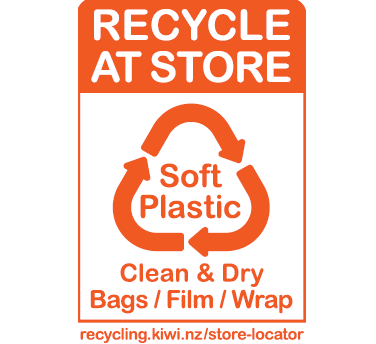 Recycling soft plastic is something you can do.
The Soft Plastic Recycling Scheme website tells you all about plastic bag and plastic wrap recycling.
What do you need to do? Collect all the soft plastic packaging which you use at home, make sure the bags are clean, empty and dry and drop them into the Soft Plastics Recycling bins at supermarkets and other stores.
The Soft Plastic Recycling bins are available for use at a number of Countdown Supermarkets, The Warehouse, New World and Pak'nSave Supermarkets along with some other locations. More regions will be added during 2022.
Look out for the green and white soft plastic recycling bins in stores.
The soft plastics that are dropped off are made into a range of plastic products which are on sale in New Zealand. The Soft Plastics Recycling Scheme currently covers approximately 70% of New Zealand. To see if the scheme is available in your area, please go to https://www.recycling.kiwi.nz/store-locator.
We've been extremely encouraged by Kiwis' commitment to recycling their soft plastics.